Hometown Hero Live Rosin Delta 9 Gummies Blueberry Indica 250mg THC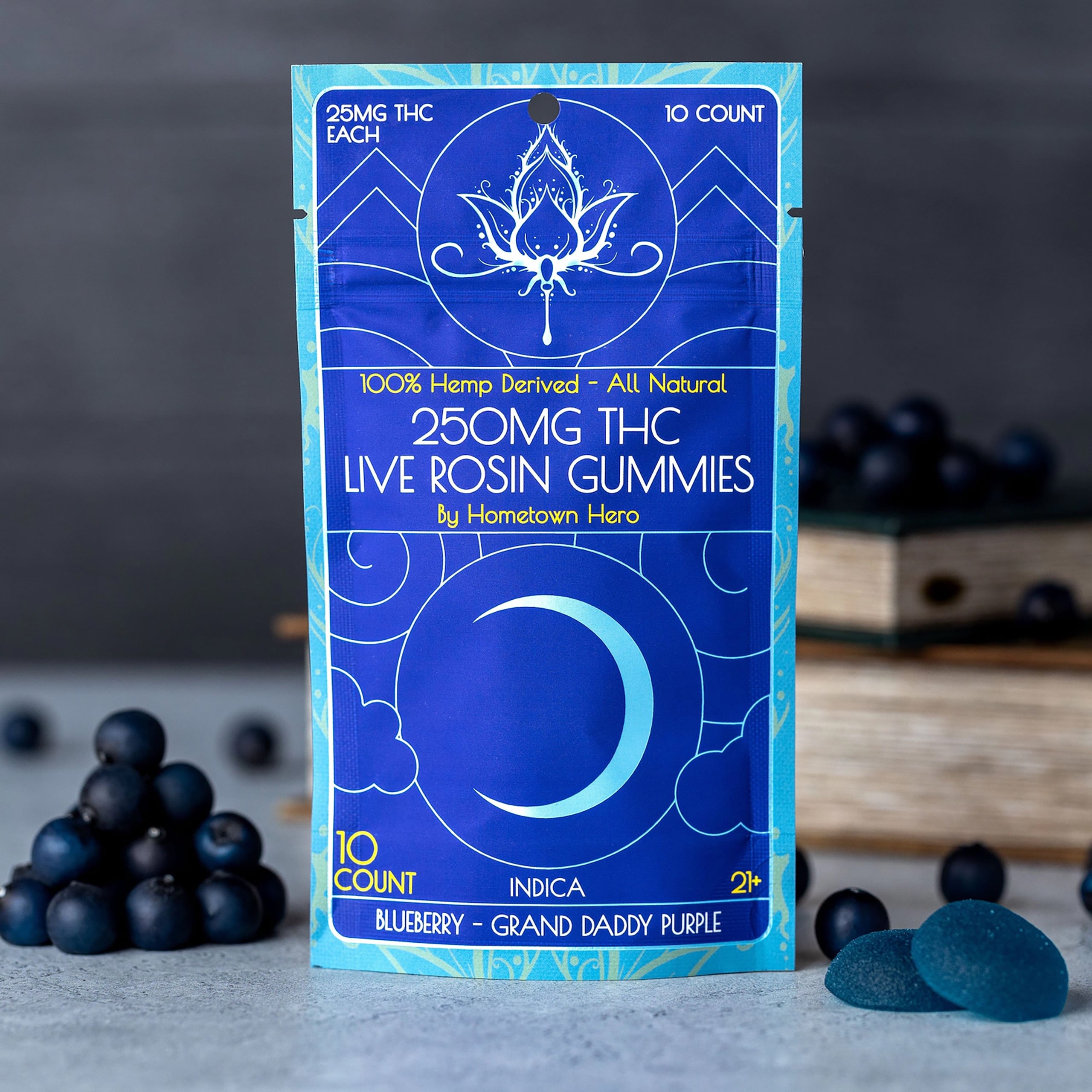 Indica gummies 5mg
Live Rosin Delta 9 Gummies from Hometown Hero offer the ideal amounts of THC and CBD.
Each one of these delicious indica gummies are perfect for versatile relaxation and relief.
These soft, chewy treats are infused with the juicy sweetness and vibrant hue of natural blueberries. In addition, there is also a subtle hint of peppery undertones because of the natural flavor of live rosin.
Live Rosin Delta 9 Gummies offer a delicious and potent way to enjoy the benefits of Delta 9 THC.
In short, their precise dosing, discreet consumption, and potential therapeutic effects make them the choice of cannabis edibles.
Whether you're seeking pain relief, relaxation, or a creative boost, these gummies have something to offer.
Potential benefits of live rosin Delta 9 gummies
Beyond the delightful taste and convenience, these gummies may offer a range of potential benefits.
Pain management: Delta 9 THC is known for its potential analgesic properties, which may provide relief from various types of pain.
Stress and anxiety reduction: Some users report experiencing reduced stress and anxiety after consuming Delta 9 live rosin gummies.
Sleep aid: For people struggling with sleep disorders or insomnia, live rosin Delta 9 gummies might provide a natural and effective solution to help them relax and sleep better.
Enhanced creativity: For creative individuals, these gummies may spark inspiration and enhance artistic endeavors.
What is live rosin?
These 5mg (50mg per package) gummies contain live rosin, ensuring that the extraction process does not involve any dangerous solvents or chemicals.
Live rosin is an important breakthrough for cannabis users. A high-pressure press processes hemp buds, preserving all of the plant's cannabinoids and terpenes.
Additionally, this approach safeguards the flavor and scent of the cannabis plant, crafting a gummy that boasts exceptional taste and potent effects.
In short, those in pursuit of a top-tier cannabis experience, live rosin stands as the ultimate preference.
Cannabis strain: Grand Daddy Purp
Granddaddy Purple, or GDP, is a renowned indica strain resulting from the blending of Mendo Purps, Skunk, and Afghanistan genetics.
This iconic California strain, with orange and purple hairs, also has an aroma of grapes and berries. Its potent effects are evident in both the mind and body, offering a harmonious blend of euphoria and physical relaxation.
To deliver the experience of this beloved strain, we pressed live rosin from Grand Daddy Purple that was bred into hemp, and then we paired it with hemp derived Delta-9 for synergy.
What's in the bag: Indica gummies 5mg
Each bag contains 10 live rosin Delta 9 gummies that are 25mg each with a natural blueberry flavor. Therefore, the total Delta 9 per bag is 250mg.
Is Delta 9 legal?
Yes. Live rosin Delta 9 gummies are legal in all 50 states because they contain hemp derived cannabinoids with a THC level below 0.3%. Whether you seek relief, relaxation, or enjoyment, you can savor these THC infused gummies without worry.
About Hometown Hero CBD
Hometown Hero is an Austin Texas cannabis company that specializes in premium hemp and CBD based products. 
The founders, U.S. Coast Guard veteran Lukas Gilkey and Lewis Hamer, started their company because they want to provide support to veterans in need.
Hometown Hero CBD gives a portion of the proceeds from every product sold to nonprofit organizations dedicated to helping veterans.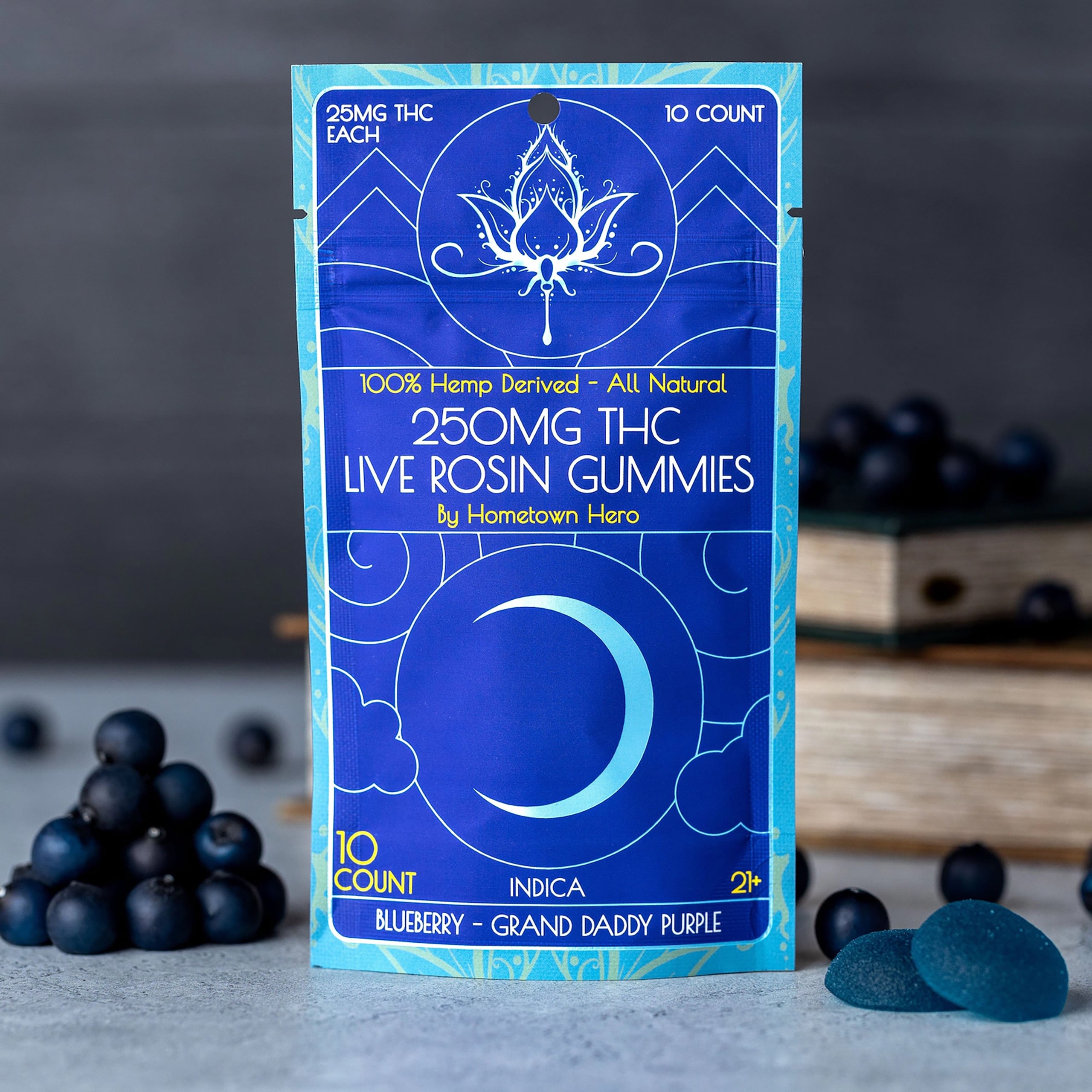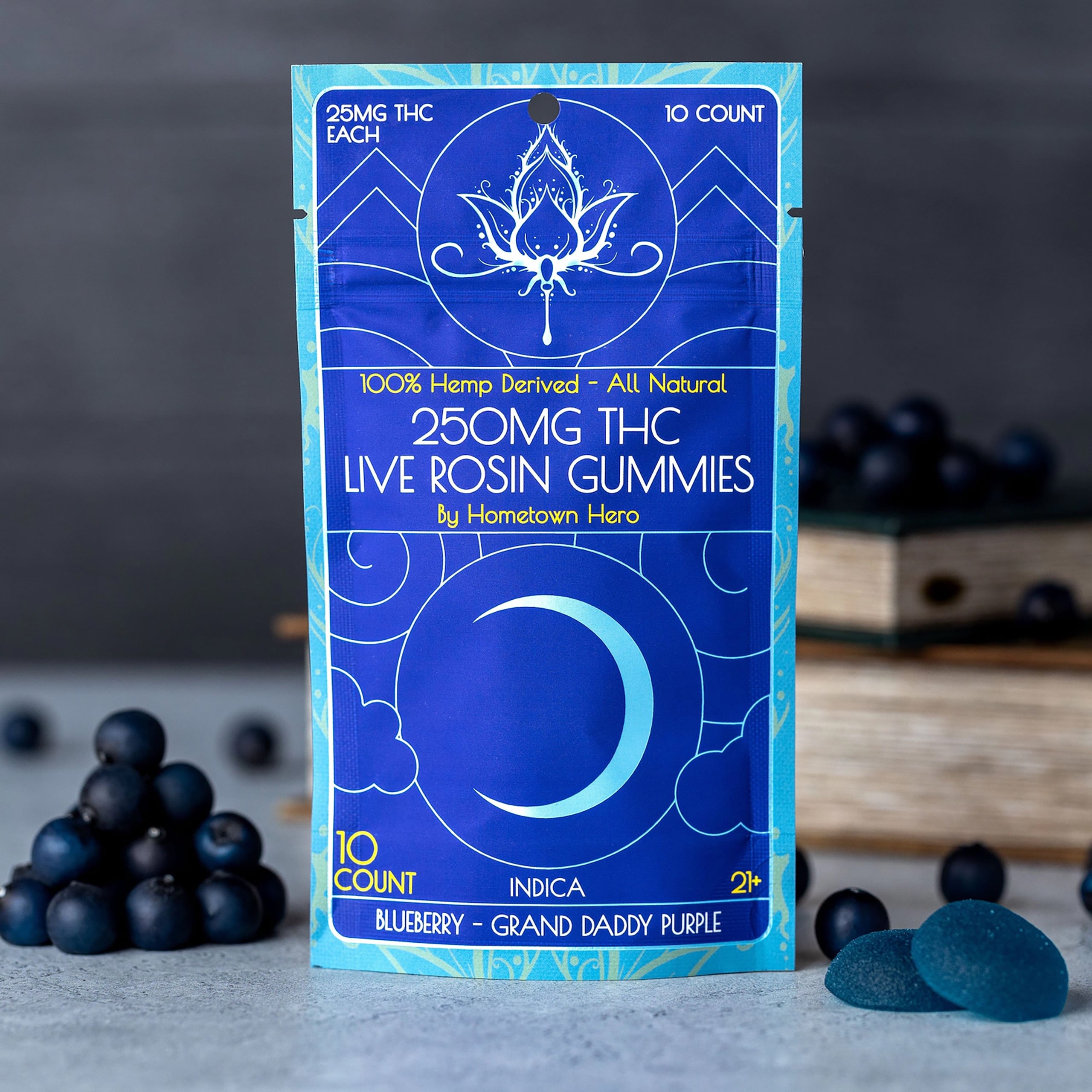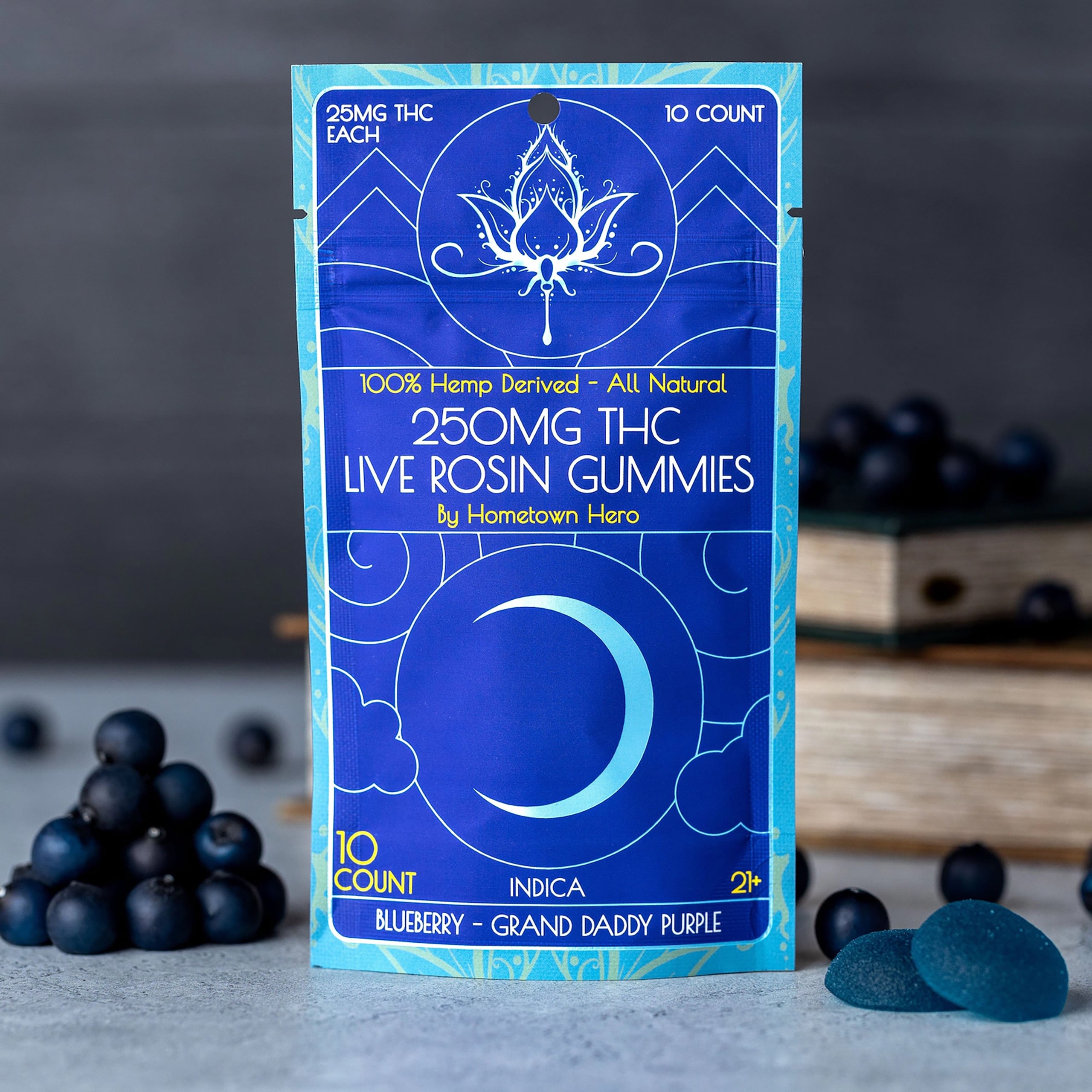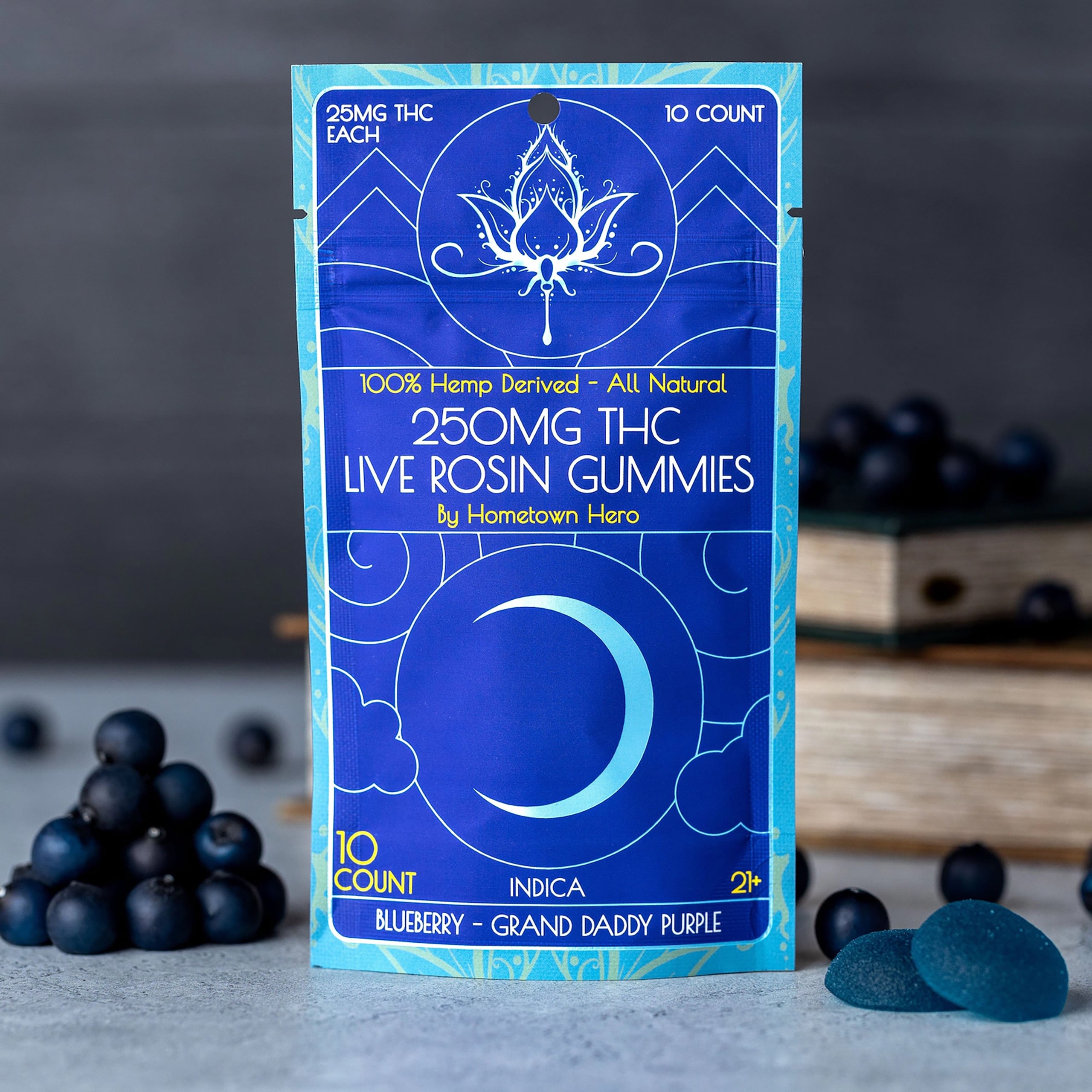 Mignon's blog
Live rosin is a cannabis concentrate known for purity, potency, and flavor. The solventless extraction process means no nasty chemicals.
Among hemp based cannabis products the question of Delta 8 vs Delta 9 vs Delta 10, "which is better?" is commonly asked.
Is CBD bad for you? The answer is not a simple yes or no. CBD offers numerous benefits, but it's essential to use it responsibly.