Hometown Hero Delta 9 Sativa Gummies - Orange Live Rosin 250mg THC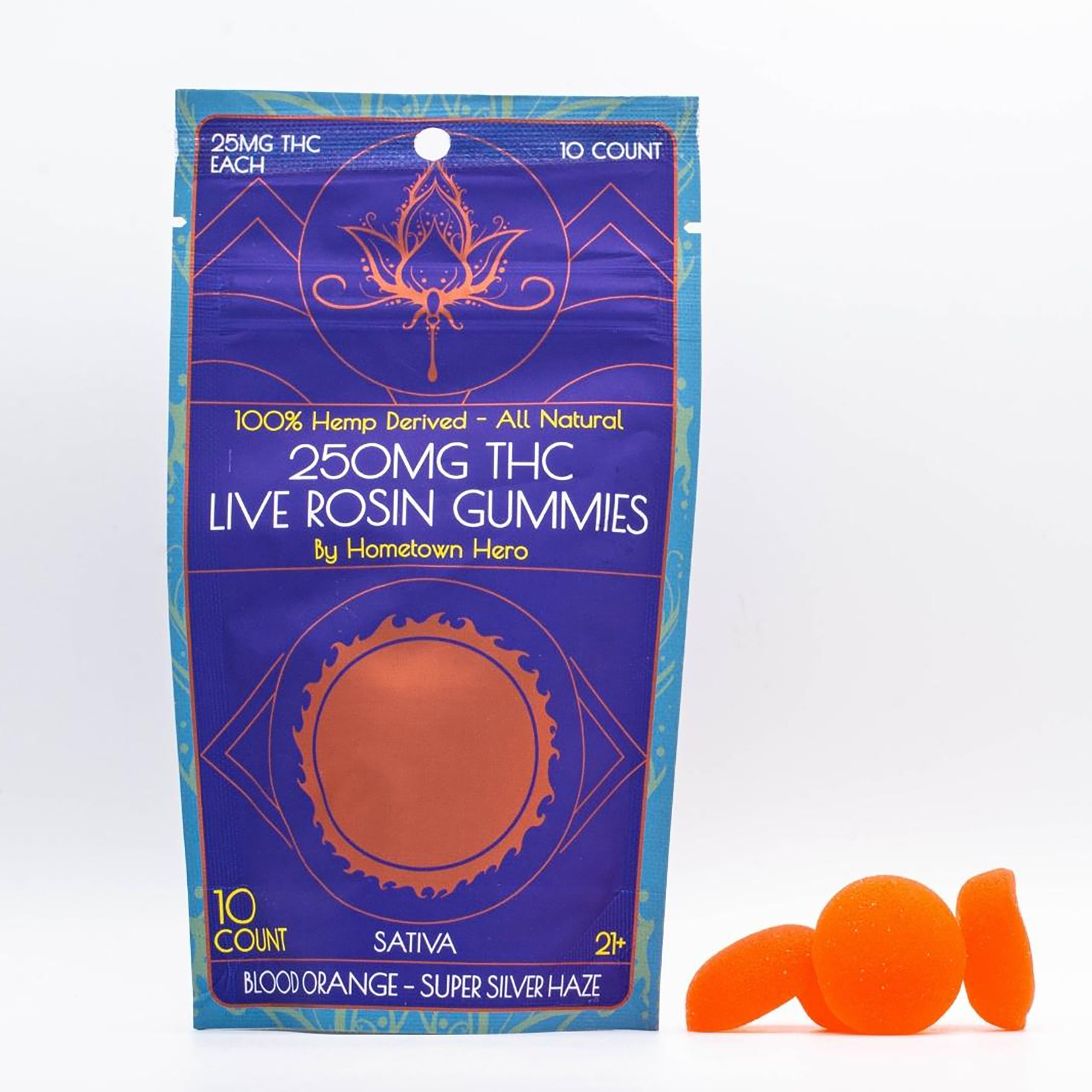 Delta 9 sativa gummies made with live rosin
Infusing live rosin in the Blood Orange Hometown Hero Delta 9 Sativa Gummies creates a natural cannabis experience.
The resulting effect is that you will savor a tangy orange kick without the worry of additives, chemicals, or solvents.
Each gummy bursts with 25mg THC, further creating an experience that you won't want to miss.
The live rosin advantage: Solventless Delta 9 THC
Pressing hemp flowers creates live rosin, a premium cannabis concentrate, which also naturally preserves the terpenes and cannabinoids.
This solventless extraction method guarantees a more natural cannabis experience because it avoids the use of chemicals or solvents.
Benefits of Delta 9 THC with live rosin
Pain management: Delta 9 THC is known for its potential analgesic properties, which as a result can offer relief from pain.
Stress and anxiety reduction: Some users have reported reduced stress and anxiety levels after consuming Delta 9 live rosin gummies.
Sleep aid: For individuals with sleep disorder, live rosin  gummies could offer an effective solution that can achieve better sleep.
Enhanced creativity: Creative individuals may find that these gummies can spark inspiration that elevates artistic endeavors.
Super Silver Haze - A legendary sativa
The gummies incorporate the legendary Super Silver Haze sativa strain from Amsterdam, that is renowned for its High Times Cannabis Cup victories.
People favor these sativas for their uplifting and energizing effects, therefore making them the perfect choice for daytime indulgence.
What's in the bag
Each bag holds 10 Delta 9 Sativa Gummies that are 25mg THC each, that results in a total of 250mg THC per bag.
Is Delta 9 THC legal?
Using cannabis extracts sourced from hemp ensures that the Delta-9 THC content remains below the legal 0.3%.
Enjoy them in all 50 states because 0.3% abides by federal law.
About Hometown Hero Delta 9
Hometown Hero, a CBD company based in Austin, Texas, specializing in premium hemp and CBD-based products.
U.S. Coast Guard veteran Lukas Gilkey and Lewis Hamer founded the company because they want to support veterans in need.
To fulfill this mission, Hometown Hero also gives a portion from every product sold to organizations dedicated to helping veterans.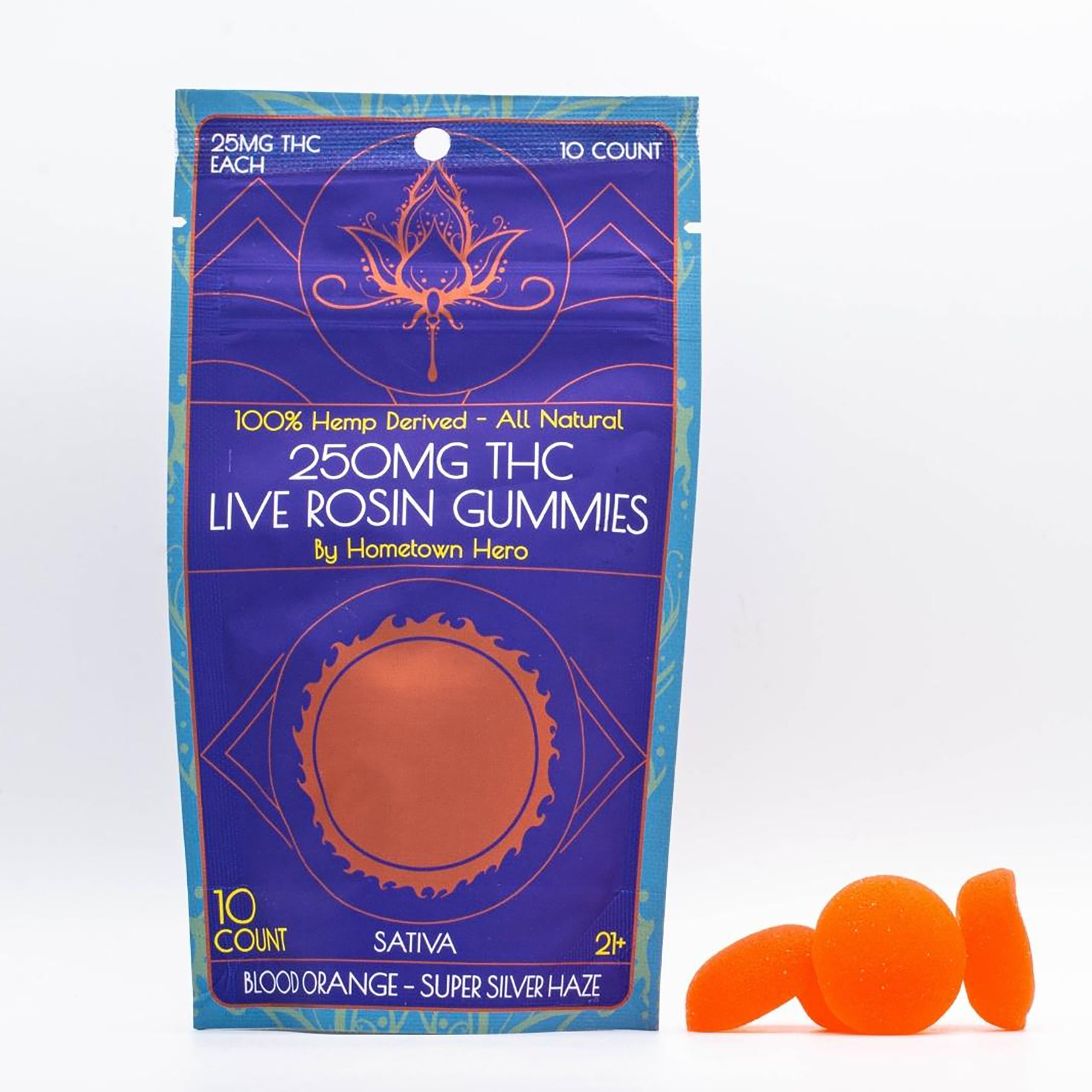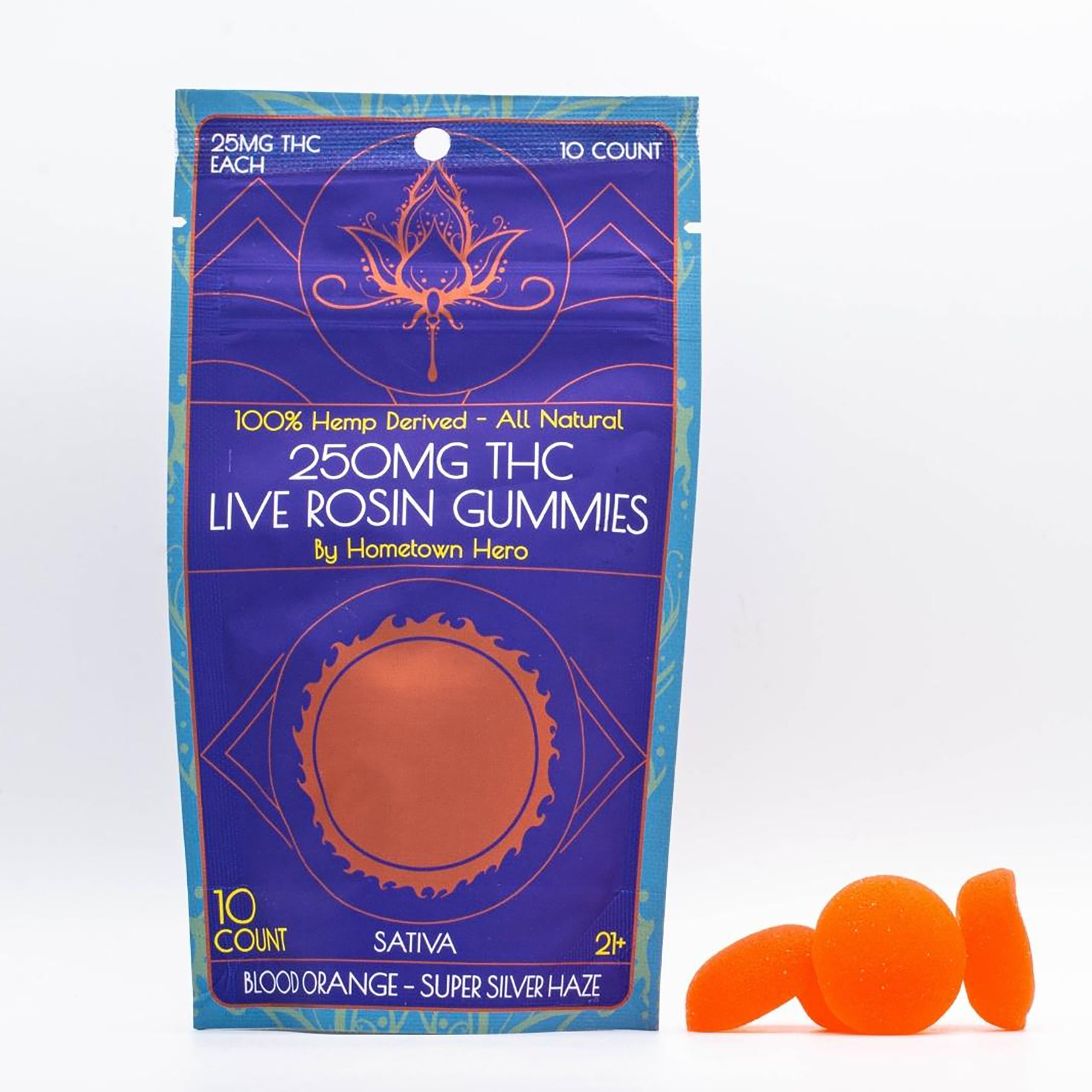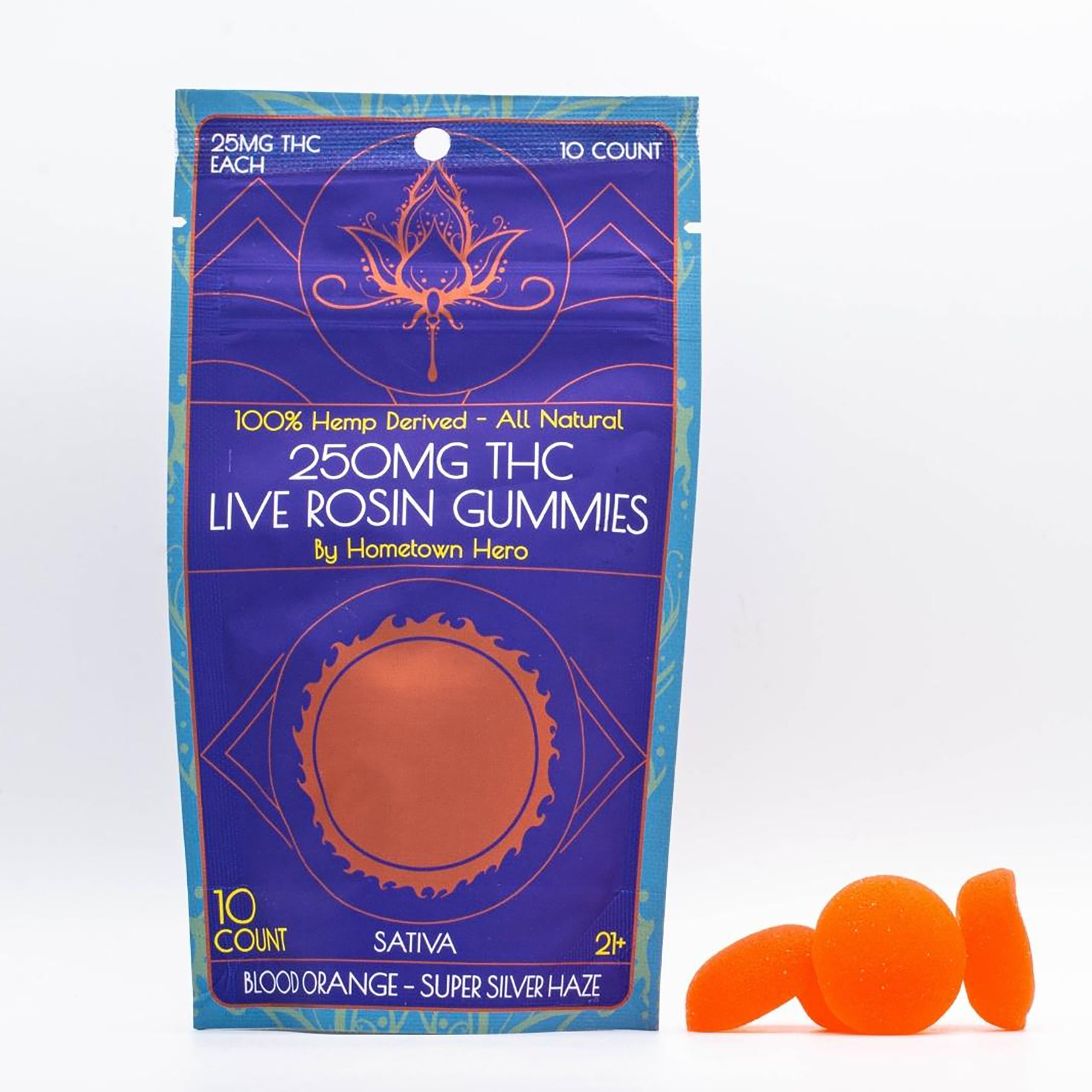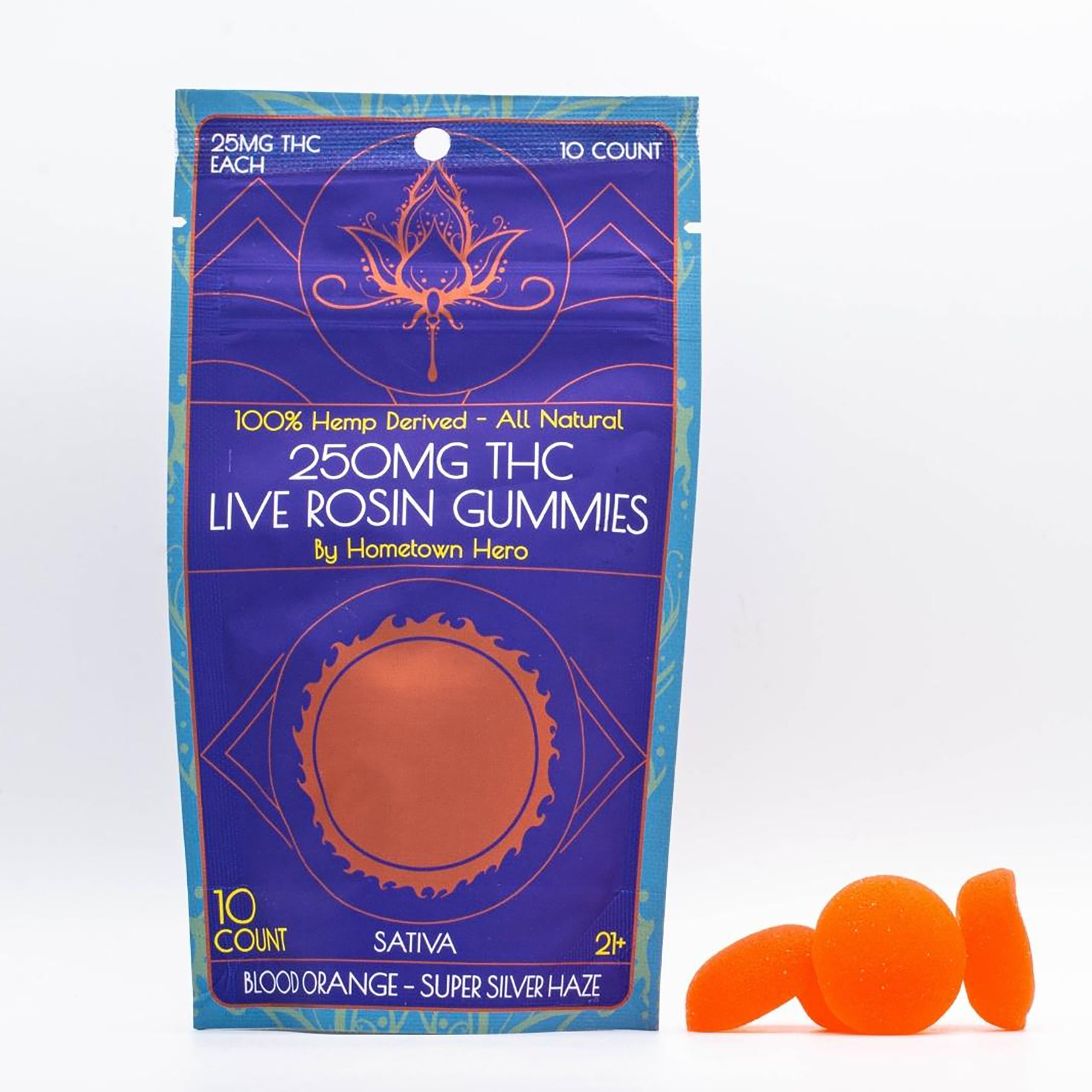 Mignon's blog
Live rosin is a cannabis concentrate known for purity, potency, and flavor. The solventless extraction process means no nasty chemicals.
Among hemp based cannabis products the question of Delta 8 vs Delta 9 vs Delta 10, "which is better?" is commonly asked.
Is CBD bad for you? The answer is not a simple yes or no. CBD offers numerous benefits, but it's essential to use it responsibly.